Since material items are typically handled in the physical space (they are transported by conveyors and occupy a certain space on them), the dimensions of the material items are essential to obtain valid simulation results. The size of each material item is defined by three dimensions (length, width, height), which are set to 1 meter by default.
Dimensions of the custom material item type are defined in the Dimensions and movement section of the custom type's properties.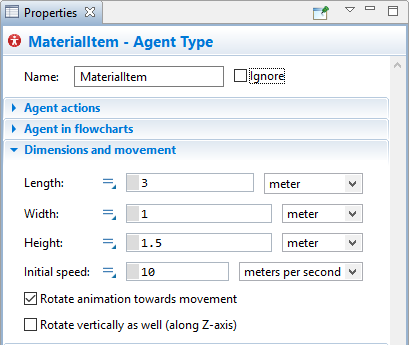 In case you do not require custom types of material items, the material items in your model will have the default size of 1*1*1 meter.
You can adjust the item's dimensions (of both default and custom types) in either of the following ways (new dimensions override the dimensions previously defined in the custom type properties):
Typically material items are generated by the Source block of the AnyLogic Process Modeling Library. You can set the material item dimensions right upon its creation by adjusting the properties of the corresponding Source block.
To set the new length, width, and height of the material items being created by the Source block, expand the Agent section of the block's properties, select the Set dimensions option and specify the values in the fields below.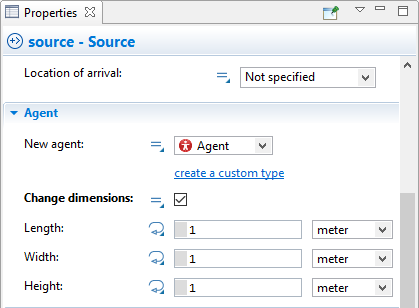 You can obtain and adjust the current dimensions of existing material items by calling the corresponding functions of the material item:
Dimensions

Height

Width

Length
How can we improve this article?