AnyLogic contains a set of 3D images of frequently modeled objects: person, nurse, doctor, truck, lorry, forklift truck, warehouse, factory, etc. This is done to keep you from drawing these objects manually or searching for ready 3D images somewhere any time you want to display them in your 3D animation. Now you can waste no time on drawing and simply use a 3D object from the set of 3D objects distributed along with AnyLogic.
If the required object is missing, you can import it in the form of the Collada (DAE) file using AnyLogic 3D Object.
Open the

3D Objects palette to see the whole list of available 3D images.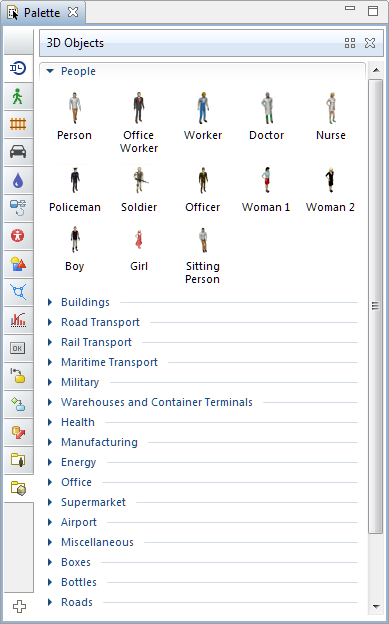 To add a standard 3D object onto the presentation
Drag the required object from the 3D Objects palette onto the presentation diagram.
You will see that the object is implemented as a common AnyLogic 3D object. Therefore, you can modify its scale and also change certain parameters (size, rotation, visibility, scale) at model runtime using object's dynamic properties.
Fork Lift Truck and Pallet Trolley are groups, containing a couple of 3D objects — a man and a forklift/a pallet trolley respectively. You can ungroup them and use the 3D objects individually.
How can we improve this article?