The model screen displays information about your model and its versions.
To open the model screen
While working with the model's experiments, navigate to the model screen by clicking the name of the model in the experiment toolbar:
The model screen page also opens up automatically when you upload a model to AnyLogic Cloud.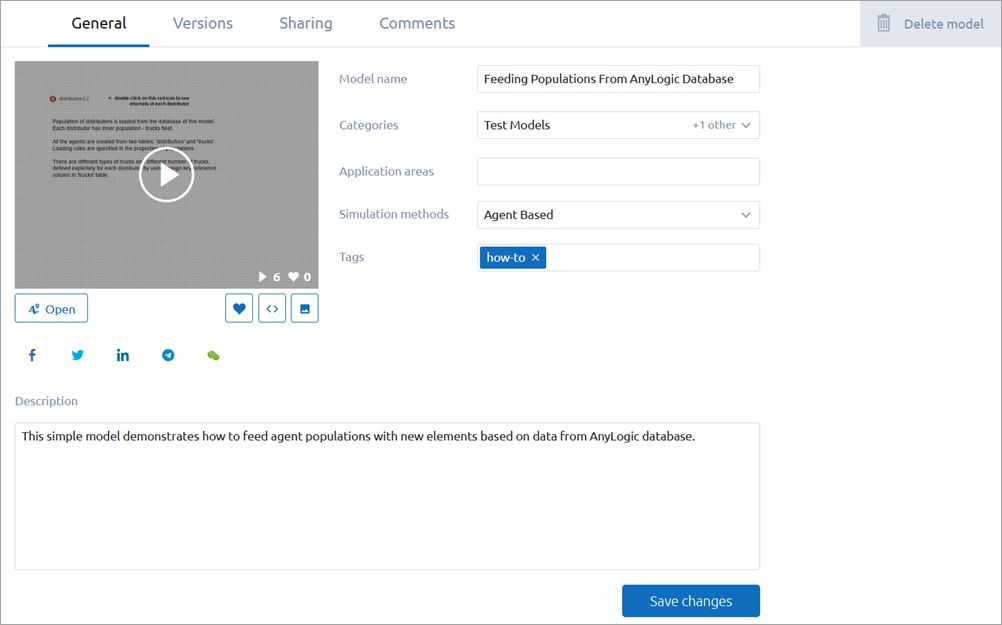 The model screen consists of the following tabs:
General — Provides general information about the model: its name, description, thumbnail image, categories, application areas, simulation methods, and tags.
The footer of the thumbnail image shows the number of model runs and likes.

This section is the only section visible to the users with the

User

role. It also allows to download Model source files to any user with

User

role if the model owner uploaded the model's source files to AnyLogic Cloud, and one of the model's developers enabled the

Allow to download sources of the latest model version

option in the

Publish model

section of the

Sharing Settings

tab beforehand.

Other tabs are available to the users with the

Developer

role. Administrators of Private Cloud environments also have access to all settings of the models that users published in these environments.

Below the model thumbnail, the following buttons are available:

| | |
| --- | --- |
| Run | Run the model and view its animation in the dialog. |
| Edit | (available to subscribers) Edit the model in AnyLogic 9. |
| Like | Like the model. |
| Embed | Get the embedding code for the model (works for Public models only). |
| Change thumbnail | Replace the model image on the General tab and the model tile (visible on the title screen of Cloud). |

Versions — Lists the existing versions of the model. Switch to this tab to manage them or work with a specific model version.
Sharing Settings — Switch to this tab to set up the model's sharing settings.
Custom UI — From this tab, experienced users can upload a custom web UI designed for their model to host it in a Private Cloud environment.

This feature is available to Private Cloud users only.

Comments — Contains comments that users left for this model. If your assigned role is User, comments will be available directly beneath the model description on the General tab.

Regular users can delete their comments,
Model owners and the users with the Developer role can delete all comments left to their models,
Administrators of Private Cloud environments can delete any comments in these environments.
To delete the model
Click the Delete model button in the top-right corner of the model screen.
How can we improve this article?